Chennai
Oct 9 2002
Empty roads, closed shops and business establishments, poor attendance in govt offices, buses remaining in depots and most autorickshaws keeping off the roads were the dominant images of the dawn-to-dusk all-party sponsored general strike called in Tamilnadu and Pondicherry today, when most people were indoors, what with the overcast sky and intermittent showers making the weather dank and roads damp.
With the buses confined to the depots and overnight rain inundating the bus-stand, it wears a deserted look, a metaphor for today's strike. Called to express the displeasure of the people of Tamilnadu and Pondicherry over the recalcitrant attitude of the Karnataka government that had cocked-a-snook at the Supreme Court and played truant in releasing water in the dry Cauvery, causing the withering of paddy crops in the delta region, the strike evoked near total response.
With most trade unions of transport sector and autorickshaws joining in the strike, the roads were empty with a few private vehicles buzzing past
Almost all government establishment,recorded low attendance and many private establishments closed for the day. With schools and colleges declaring a days holiday, there were very few people taking the slippery and dug-up roads of the city during the normal peak hours.
Though the railways had called off its services between 6 am and 6 pm, passengers travelling by long-distance trains scheduled to reach Chennai early in the morning reached the stations and were ferried to their destination in vans and buses run specially for that under the supervision of police.
But for a few petty shops and tea stalls on bylanes, all business establishments downed their shutters, though there was no overt threat from any quarters to make the strike a success.
In the rural pockets of Pondicherry, where shops and business establishments do not normally close on bandh days and strikes, the scene was different today with most shop-keepers willingly responding to the strike call, given by all the parties in the Union Territory.
No activity took place in tinsel town as the South Indian Film Chamber of Commerce had given a call to all sectors of the film industry to take part in the strike. Associations of wine merchants, restaurant and hotel owners and Burma Bazaar traders gave separate calls to their members not to open their establishments during the strike hours and the Working People Trade Union Council also announced its participation.
However, those sectors that were exempted from the strike like milk distribution, newspapers, water supply, electricity and telephones functioned without any hitch and police personnel were posted all over the city to ensure law and order. No untoward incident was reported from anywhere in the State till 1 pm.
Rajni to go solo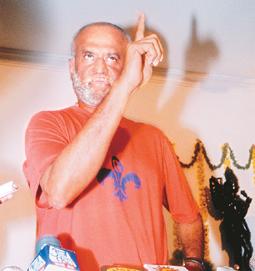 Chennai
Oct 9 2002
Hitting out at his film industry colleagues and hinting that he might enter politics in future, actor Rajnikanth today decided to plough a lonely furrow on the Cauvery issue by proposing to sit on a fast here on 12 October on the very same day when the rest of the Tamil film industry has planned a huge protest rally in Neyveli.
An emotionall-surcharged Rajni told a crowded press meet here that he would undertake the fast at Valluvar Kottam or Film Chambers building or at Nadigar Sangam premises on 12 October. Rajnikanth, who answered only a few questions from the media, lashed out at his colleagues in the industry by saying that what can their protest achieve when the matter could not be solved even by the Supreme Court, the Prime Minister and the two Chief Ministers.
The actor who has been the sole dissenting voice in the Tamil film industry over the Cauvery issue also said that at stake was the life of over 40 lakh Tamilians living in Karnataka. Stating that some of them had spoken to him over telephone, the actor said can the government of Tamilnadu and the film industry protect them (in the event of violence). Rajnikanth also revealed that he had told the Tamil film industry that they could have their show of protest in Chennai itself and not in Neyveli. But they did not accede to my request. Specifically spelling out that some forces, both in the political as well as in the film arenas, were working to tarnish his image, Rajnikanth said if they think that I am down after the failure of one movie, they are wrong.
Anyway, he added, he did not care much for the fame or popularity, built over several years, if it fell just because one of his films had flopped. I am not scared about anything or anybody but only God, he said. Throwing enough hints that he was not averse to getting into politics, Rajnikanth also said he would answer his political detractors during election time. Earlier in the day, South Indian Film Artistes Association president Vijaykanth, cut short his private visit abroad and arrived here this morning to participate in the film industrys protest rally in Neyveli.
The film artistes are demanding that power supply from NLC to Karnataka be stopped till Cauvery waters were released to Tamilnadu by that State. He told reporters at the airport that Rajnikanth had telephonically informed him that he would not be participating in the rally, but had assured that he would back any agitation organised by the association. Vijaykanth said the proposed rally at Neyveli was justified as it would enable the farmers from the five Cauvery delta districts participate in it. It is nearer to the delta area, he said. Rajnikanth himself returned by air late last night from Rishikesh, where he had to visit some temples along with his family.
Free rice for 4,500 poor families in karaikal
Pondicherry
Oct 10 2002
Free rice of 25 kg each for the 4,500 families coming under the below poverty line (BPL) in Karaikal would be distributed at a function in the drought-hit Karaikal on Friday.
Pondicherry Chief Minister N Rangasamy would distribute the rice under a scheme of the Dept of Women and Child Development as part of the relief measures to enable the poor families to combat drought now gripping Karaikal for want of rain and Cauvery water.
M Chandrakasu, Social Welfare Minister, who stated this in a communication, said the scheme was aimed at enabling the poor families to tide over their difficult days.
Krishna continues padayatra
Chennapatna
Oct 10 2002
Karnataka Chief Minister S M Krishna left here this morning to Maddur, his home constituency, on the fourth day of his padayatra to the Cauvery basin districts of Mandya and Mysore.
Krishna began his march to a rousing response from thousands of farmers and party workers who had gathered here since morning to accompany him on his truncated yatra, which has been cut short by two days.
Amidst chanting of slogans in support of his government stand on Cauvery, he began his walk which would take him to Maddur, from where he has been elected to the state Assembly.
The yatra would be terminated on October 12 at Mandya in his home district, instead of October 14 as scheduled earlier, with a public rally, which is expected to be attended by Kannada film icon Rajkumar.
Yesterday, Krishna had announced that he had decided to cut short his march so as not to cause inconvenience to people in view of the Dasara celebrations.
The farmers' body spearheading the agitation in Mandya district has expressed itself strongly against the padayatra. But, Krishna has rejected their call for withdrawing it, saying "I have conceived the yatra, executed it and will conclude it too".